Montanavision, Inc.
Client since 1990.
| | | |
| --- | --- | --- |
| | On September 30, 2010, a new full-service radio station went on the air, serving Livingston and the Paradise Valley from the Meyers Flat Site. KYPM operates on 90.1 MHz, and operates in the FM+HD RadioTM mode. | |
---
The difference between a translator and a full-service radio station may seem subtle to most of the audience, but a recent development in the area illustrates this important distinction. For many years, Yellowstone Public Radio was heard on a translator on 106.7 MHz on the east side of Bozeman. In February, 2008, a full-service radio station began operation on 106.9 MHz, effectively wiping out reception of the 106.7 MHz translator. This is an FCC regulatory matter that assigns priorities. A translator is a lower priority than a "full-service" radio station.
In order to secure a place on the radio dial for Yellowstone Public Radio in Livingston and the Paradise Valley, YPR applied for and received a Construction Permit for a new full-service radio station in the Livingston area.
KYPM.
FCC Facility ID 172578.
Frequency 90.1 MHz.
ERP 440 Watts.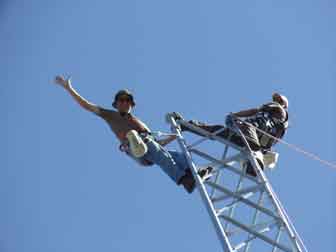 The first task was to extend the existing 40-foot tower to 100 feet in height. Here, Jim and Joe are just finishing the 80-foot section.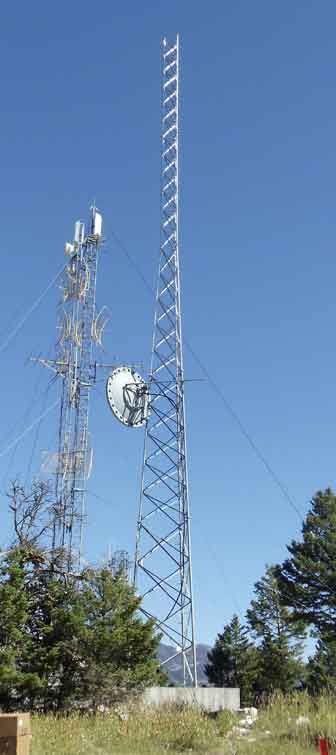 We finished the tower to the 100-foot level on August 24, 2010.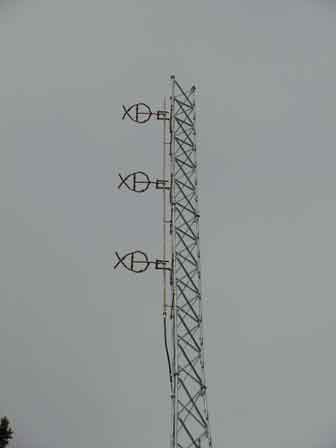 Loren and Jake finished installing the ERI LPX-3E antenna on September 28, 2010. Jim and Jake installed the 1-1/4 inch coax.


Livingston Translator First Page.

2006 Livingston Translator Move.
---
This page updated 14-Mar-2016.