Montanavision, Inc.
Client since 1990.
serves Bozeman, Belgrade, Manhattan, and Three Forks on 102.1 MHz with a transmitter located near Four Corners. We also maintain the John W. Fisher Studio at the Bozeman Public Library.

Page 1, 1991-2006 | Page 2, 2007-Present
---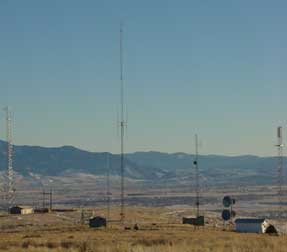 High Flat Electronic Site is west of Bozeman and south of Belgrade. The 200 foot KBMC tower is the tallest at the site. December, 2004.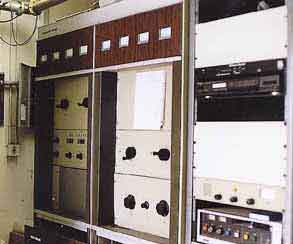 The McMartin BF-10M transmitter was installed in October, 1991.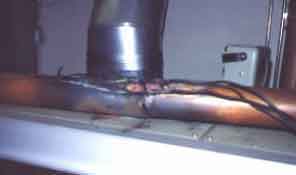 This melt down of the lowpass filter was caused by high reflected power from a spring snowstorm that coated the antenna with ice. The damage occured when the transmitter protection failed, April, 1999. It was decided to retire the McMartin transmitter and replace it with a new one.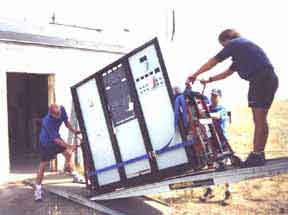 Professional movers from Mergenthaler Transfer and Storage of Bozeman gently guided the new transmitter down the ramp and into the building, August 6, 1999.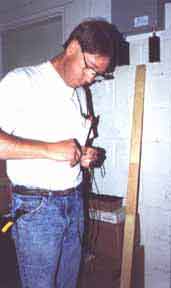 Technical Director for Yellowstone Public Radio, Randall Rocks, prepares cables to connect the new transmitter.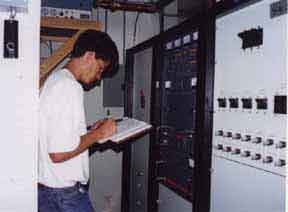 Engineering Apprentice Rhett Jackson logs the first official operating parameters for the new Continental Electronics 816R-1C FM transmitter on Friday evening, August 13, 1999.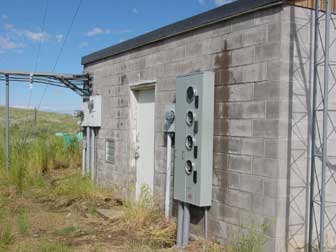 With the explosion of wireless services in the Gallatin Valley, the High Flat site has been growing, too. In 2004, a new single-phase meter cluster was installed when Air-Tel moved in. This building is owned by KTVQ, Inc.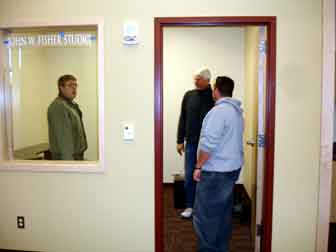 On Wednesday, November 1, 2006, we looked over the new John W. Fisher Studio in the new Bozeman Public Library. It was somewhat larger than the studio at the old library, but which way to place the furniture? From left, David Hubbard, Jim Bender, and Loren Denison.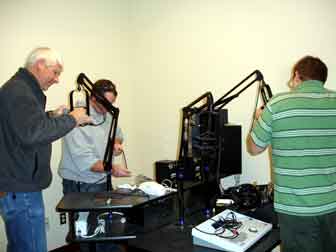 We tried several different arrangements, but finally settled on this layout. The producer/engineer sits on the left side of the room, facing the talent on the right side of the table. Both have a view through the window to the large meeting room. Jim and David install microphones while Loren makes connections to the mixing console.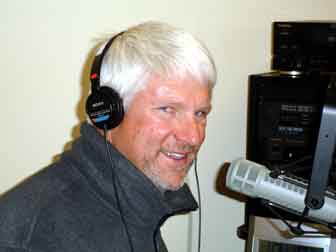 After everything is connected, Jim makes a test transmission.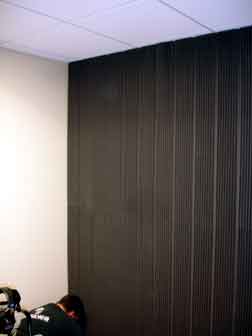 Before a hard-walled room can be a real studio, the acoustical environment needs to be controlled. Here, Loren installs acoustic foam on the west wall, 28-Nov-2006.

---
Page 1, 1991-2006. | Page 2, 2007-Present.

---
This page updated 14-Mar-2016.