Montanavision, Inc.
Client since 1990.
| | | |
| --- | --- | --- |
| | serves Helena, East Helena, and Townsend on 89.1 MHz with a transmitter located on Hogback Mountain. | |
---
Call Sign=KYPH.
Frequency=89.1 MHz.
ERP=140 Watts-Vertical.
FCC Facility ID=173818.
North Latitude=46° 49' 30"
West Longitude=111° 42' 13"&nbsp(NAD27).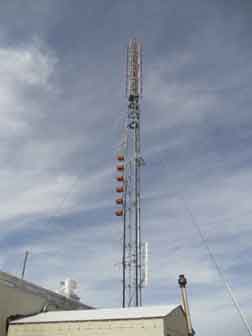 It's a stout tower for a severe environment, and supports antennas for several stations. At the top, KTVH-DT Channel 12; at the lower right, the white panel antenna is for KMTF Channel 29; the 6-bay Shively antenna on the left side of the tower is for KIMO (FM) 107.3 MHz. Just above it is the 5-element Yagi for KYPH. Above that is the 5-element crossed Yagi for K251AC and K244EH. Below the orange radomes is the 2-bay Bext antenna for KMXM (FM) 102.3 MHz.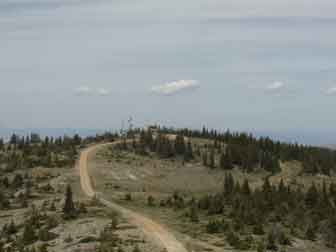 Hogback Lookout on the west end of the ridge.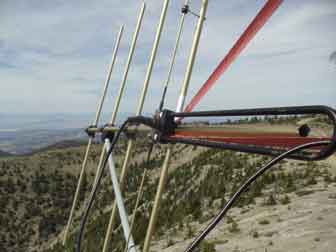 Over the winter, the KYPH antenna boom broke at the screw hole for the balun. Loren placed the ratched strap to hold it together until repairs could be made.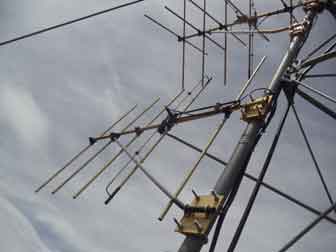 The repaired KYPH antenna has a new boom with an internal wooden stiffener and two new support braces, August 19, 2012.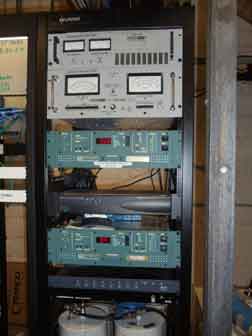 From the top: TTC FMS100 Amplifier and TTC XLFM Translator for K244EH, re-broadcasting Yellowstone Public Radio at 96.7 MHz; Crown FM transmitter for translator K251AC, re-broadcasting KGLT at 98.1 MHz; Rayne ComStream ABR202 satellite receiver for Yellowstone Public Radio; Crown FM150 transmitter for KYPH (FM), broadcasting Yellowstone Public Radio at 89.1 MHz; Burk AC-8 outlet controller; Burk ARCPlus SL remote control; and filter cavities to insure that they all play well together.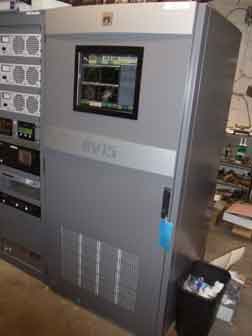 KIMO (FM) transmitter is a Nautel NV15, operating at 107.3 MHz in the FM+HD RadioTM mode.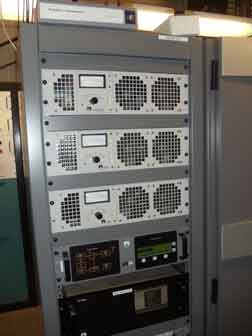 KMXM (FM) transmitter is a Nautel CA2000, operating at 102.3 MHz in the FM+HD RadioTM mode.

---
This page updated 14-Mar-2016.