Montanavision, Inc.
Full Service Client Since 2005.
Gardiner/Mammoth FM Association, Yellowstone National Park.

---

There are no commercial radio or television stations located within the boundaries of Yellowstone National Park. This suits most visitors and Park employees, who appreciate the quiet solitude of America's First National Park. Yet, keeping in touch with the world is an important priority for many Americans. Toward this end, the Gardiner/Mammoth FM Association was formed. The Association has five translator licenses to import distant FM stations for re-broadcast in the area around park headquarters.


Two of the FM translators are located on Bunsen Peak, just south of Mammoth.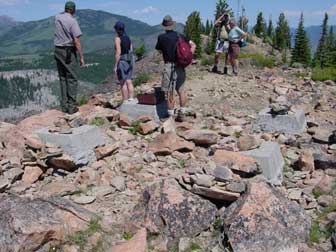 The geek is a hiker. Yellowstone National Park Director of Technology Services Mike Reynolds takes time to point out landmarks for hikers on Bunsen Peak. The concrete piers formerly supported a lookout tower. July 13, 2005.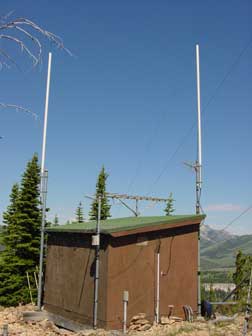 Bunsen Peak is an excellent transmission point for the area around park headquarters. This building houses the FM translators, a cellular telephone system, a seismic data relay, and a Park Service radio relay.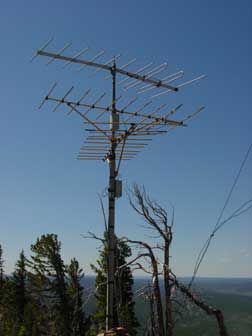 The situation of Bunsen Peak allows these antennas to receive signals from Billings and Jackson. On this beautiful July day the Tetons were visible to the south.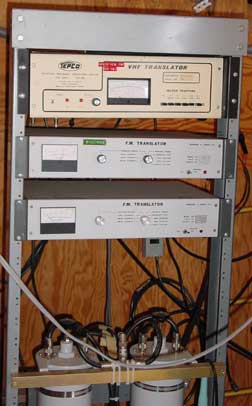 This equipment rack houses an old VHF TV translator, two FM translators, and a pair of cavities to multiplex them into a single transmit antenna. The gray translator in the middle is for Yellowstone Public Radio.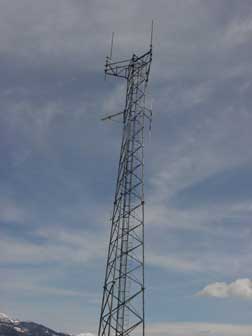 This is the Elk Plaza tower, shared by three FM translators, the NOAA Weather Service transmitter, a cellular telephone system, and a park service radio relay.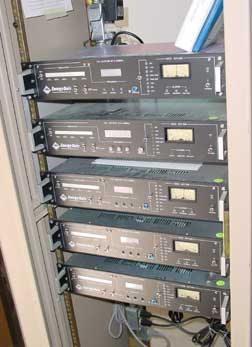 The Association has five translators at the Elk Plaza site. A multiplexing system allows a single antenna to be used for all five receivers and all five transmitters.

---
This page updated 14-Mar-2016.