Montanavision, Inc.
Client since 1990.
| | | |
| --- | --- | --- |
| | serves Bozeman on 95.9 MHz with a translator located on Sourdough Ridge. | |
---
KEMC first began broadcasting to the Gallatin Valley with the 88.5 MHz translator on Quinn.That translator did not cover the downtown Bozeman area well enough, so in 1994, a translator on 106.7 MHz was constructed at the Story Hill site. That facility provided great coverage of the east side of the Gallatin Valley and downtown Bozeman until the site was decommissioned in March, 2003. The search began for another site on the east side of Bozeman that could provide similar coverage.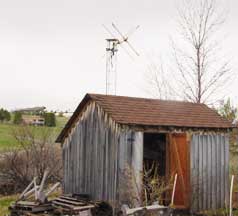 The new 106.7 translator was carefully camoflaged in a residential neighborhood on Sourdough Ridge. Thanks to the support of loyal listeners, the translator was turned on April 24, 2003.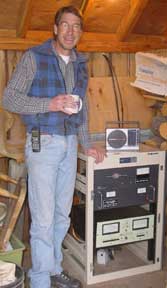 Randall Rocks, Technical Director for Yellowstone Public Radio, stands next to the newly-installed 106.7 translator, 24-Apr-03.


This translator had to be turned off on February 29, 2008, when Radick Construction began operation of their full-service FM station on 106.9 MHz.

This translator has been re-licensed for 95.9 MHz, and will operate until a new full-service station begins broadcasting on this frequency to the Gallatin Valley.
---
This page updated 14-Mar-2016.