Montanavision, Inc.
Client since 1990.
| | | |
| --- | --- | --- |
| | serves Helena, East Helena, and Townsend on 96.7 MHz with a translator located on Hogback Mountain. After operating for many years at 97.1, the translator was moved to its present frequency on 04-Aug-05 to make room for a new low power FM station on 97.3 MHz. | |
---
Call Sign=K244EH.
Frequency=96.7 MHz.
ERP=50 Watts-Horizontal, 50 Watts-Vertical.
FCC Facility ID=36655.
North Latitude=46° 49' 32"
West Longitude=111° 42' 26"&nbsp(NAD27).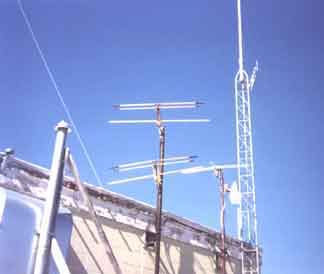 Receiving antennas on Hogback Mountain, northeast of Helena.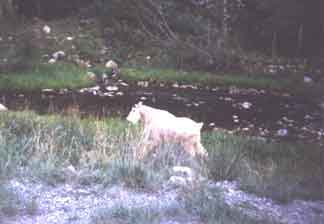 Jim surprised this Rocky Mountain goat grazing near Refrigerator Canyon, on his way to Hogback Mountain, 16-Sep-1999.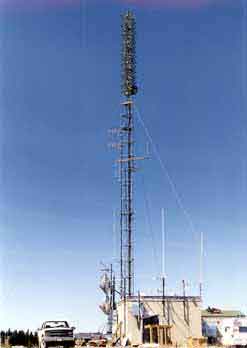 The large antenna at the top is for TV channels 10 and 12. The KEMC and KGLT antennas are about halfway down on the left side of the tower.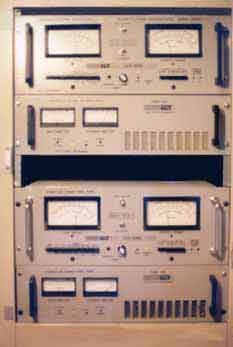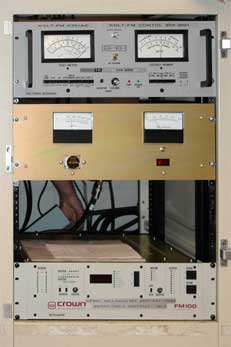 This rack it tucked away in the attic of the transmitter building, and contains the translators for both KGLT and KEMC. These translators are operated by Last Chance Public Radio of Helena. When Randall Rocks installed them, they were identical in every way, as shown on the left. In July, 2005, they were as shown on the right.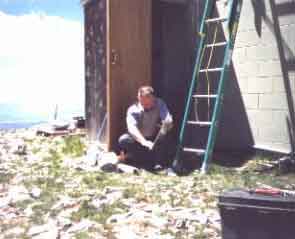 Allen Knuth, Chief Engineer for Helena television stations KTVH-TV 10 and KMTF-TV 12 performs the annual cleaning of the incinerating toilet on Hogback Mountain. Allen is a good friend of public radio in the Helena area. 23-June-1999.

In 2011, a new full-service FM station began serving the Helena area on 89.1 MHz. KYPH.


---
This page updated 14-Mar-2016.