Montanavision Media
Client since 2005.
KNEH-LP, 97.3 MHz, Helena
"New Evangelism for Helena"
Helena Community Educational Association.

---
In 2005, we collaborated with RJ Engineering to construct our second LPFM. The original plan for KNEH-LP was to mount the antenna on the KBLL-AM tower on 11th Avenue. After that tower was demolished, the search was on for a new transmitter site.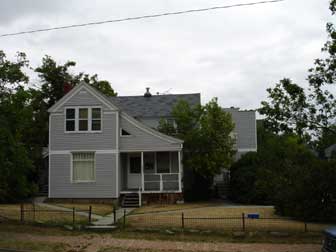 When it looked like the Construction Permit might expire before a good site site was found, it was decided to build the station here, at 432 Clarke Street. This is a residential neighborhood on the lower slopes of Mount Helena. The antenna is just visible over the roofline to the right of the chimney.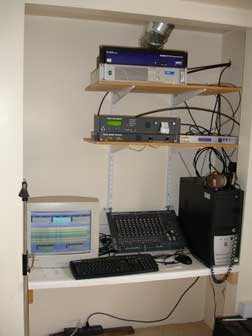 The simple studio is housed in the basement of this apartment building. The blue box at the top is the satellite receiver. The white box below it is the transmitter. The two gray boxes below them are for participation in the Emergency Alert System. On the counter is a computer for local audio playback, and a mixing console in the middle.


On 21 July, 2005, when KNEH-LP first went on the air, they wiped out reception of the local translator for Yellowstone Public Radio on 97.1 MHz. They cooperated by shutting down their transmitter until FCC authorization was obtained to move YPR to another frequency, 96.7 MHz.

In July, 2006, the transmitter and antenna were moved to Helena Avenue and the station went back on the air.

In May, 2008, the Board rented office space in the Allen Appliance Superstore Building, with the goal of moving the existing studio from Clarke Street and the existing transmitter and antenna from Helena Avenue to a single location.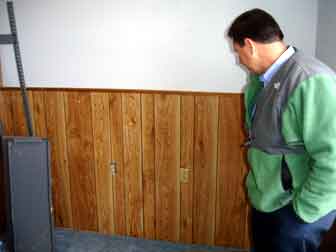 Board member Paul looks at the carpet in the future on-air studio, 01-May-08.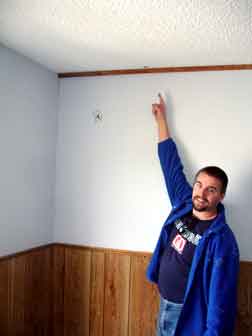 Justin Lutgen points out the existing hole in the ceiling where the main coaxial cable will run to the antenna on the roof.

---
Frequency=97.3 MHz.
ERP=100 Watts.
FCC Facility ID=133295.
KNEH-LP is affiliated with Relevant Radio.

---
This page updated 14-Mar-2016.