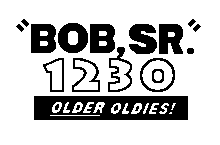 KOBB-AM, Bozeman
The station signed on the air in 1946 as KBMN. The studio and transmitter were located on North 7th Avenue in Bozeman, and played popular music.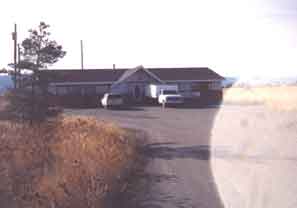 In 1992, the station was sold to local businessman Buz Cowdrey. The tower was dropped, and the studio and transmitter moved to 1450 West Kagy Boulevard, where the station shared a tower with KMMS-AM.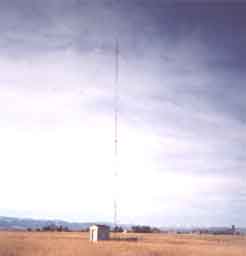 In 1993, the station was acquired by Reier Broadcasting. The call letters were changed to KZLO-AM, and the format changed to adult standards (older oldies). In 1996, the call letters were changed to KOBB-AM.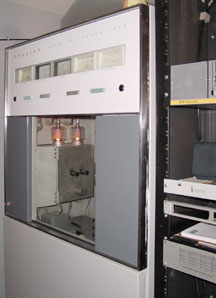 Collins 20-V3 1,000 Watt AM transmitter in use at KOBB-AM, December, 2000.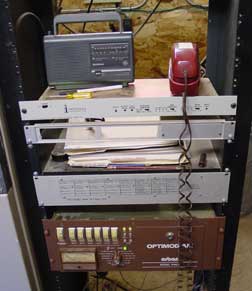 Support equipment includes monitor receiver, telephone, backup audio processor, Sine remote control system, and Orban Optimod.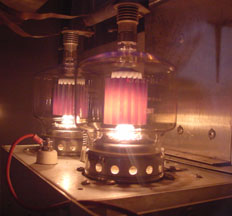 Other than the silicon rectifiers, this is an all-tube transmitter.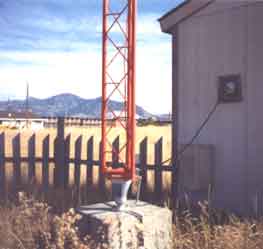 Two AM stations can share a single tower through a technique called 'diplexing.' In 1992, Kintronic Labs was contracted to construct a diplexer to combine Bozeman's two local AM stations into the single tower on Kagy Boulevard. These were the first diplexed AM stations in Montana.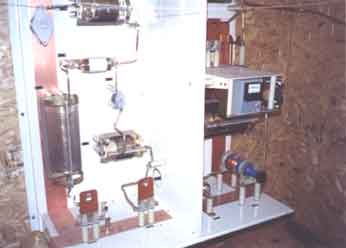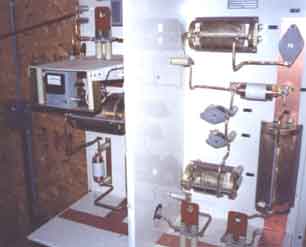 These two photos show the diplexer. On the left in the first photo is the 1230 kHz matching network, with the 1450 kHz isolation network to the right of it. The second photo shows the other side of the room, where the functions are a mirror image for the other station. The 1450 kHz matching network is on the right and the 1230 kHz isolation network is to the left of it. The feed to the tower is between the photos. KMMS-AM moved to another site in September, 2000.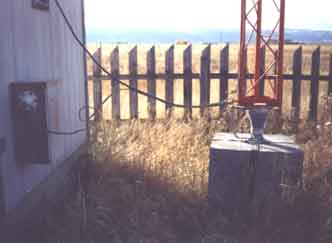 The box on the left is the tower light isolation network. It permits AC power to be fed to the tower lights without compromising the radiation characteristics of the tower.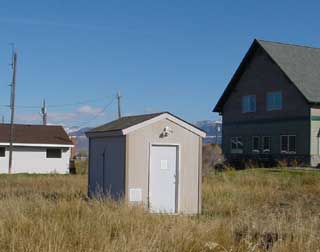 New transmitter building for KOBB-AM, constructed in July, 2001.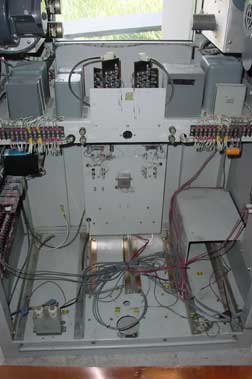 Collins transmitter, stripped of heavy transformers, has been set in its new transmitter building.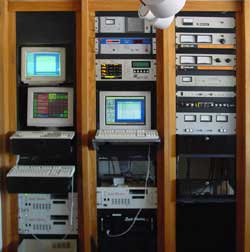 Essentially tucked away in a corner or the KOBB-FM studio, KOBB-AM is a station without a studio or console. In the left-most rack are the Scott SS and Scott PB that are KOBB-AM, 25-Oct-2004.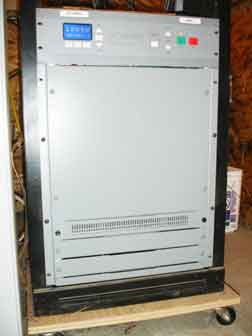 In 2006, Tony Cuesta installed a Harris DAX-1 transmitter for KOBB-AM. The Collins has not been used since.
In 2008, the format was changed to all sports and sports talk.


Note to DX'ers

Even though KOBB-AM operates with only 1,000 Watts on a frequency shared with many other stations, it is occasionally heard well outside the Gallatin Valley. We welcome your reception reports. In order to receive a DX Confirmation, your report should include the following information:
Date and time of reception, in UCT or Mountain Time.
Program details, ie., name of song, name of announcer, commercial sponsors, etc.
Your name and address.

Lacking adequate program details, you should send a recording of your reception. We are able to play all standard format media and sound files. We always enjoy reading about your DXpedition, the type of equipment and antennas that you use, and viewing your photos.

By e-mail: engr@kboz.com

By snail mail:

Chief Engineer
KOBB-AM Radio
P. O. Box 20
Bozeman, MT 59718
USA

Station Technical Summary
| | |
| --- | --- |
| Service | Standard Broadcast |
| Frequency | 1230 kHz |
| Power | 1,000 Watts Non-D |
| FCC Facility ID | 55677 |
| Tower Registration | 1036212 |
---
KOBB-FM serves Big Sky on translator K288ES on 105.5 MHz.
KOBB-FM serves Livingston on translator K240CO on 95.9 MHz.
KOZB (FM) serves Livington with translator K265AS on 100.9 MHz.
Story Hill Electronic Site.
Green Mountain Electronic Site.

---
This page updated 14-Mar-2016.