Montanavision Media
Contract Client since 2005
CSN International


---
Bozeman
At the Quinn Peak Electronic Site, northeast of Bozeman, we maintain translators for Yellowstone Public Radio and Reier Broadcasting. We installed the new K268AS translator for CSN in December, 2006.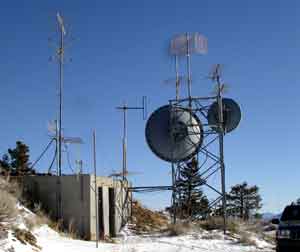 The translator receives the 91.5 MHz signal from High Flat. The receiving antenna is out of the picture to the left. The transmit antenna is on a mast at the center of the photo.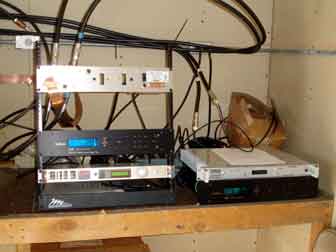 The CSN equipment is in the small rack on the left. The receiver is a Fanfare FT-1AP. The transmitter is a Bext LEX-30, set for 12 Watts on 101.5 MHz. The transmitter/receiver pair on the right is the K246BL translator for Hi-line Radio Fellowship.
K217EM + K213DY, Billings.
K268AS, Bozeman (Quinn Peak Electronic Site).
K218DN, Gallatin Gateway (High Flat Electronic Site).
KGFJ, Belt (Tiger Butte Electronic Site).
K242CA, Great Falls (Munson Communications Site).
K215CG, Helena.
K204EV + KJFT, Missoula.
CSN Main Page.
CSN International Web Site.


Montanavision Media Home Page.
This page updated 14-Mar-2016.