Montanavision Media
Contract Client since 2005
CSN International


---
KGFJ, Belt
Channel/Class=201C2, Frequency=88.1 MHz.
FCC Facility ID=172645.
ERP=250 Watts-H, 250 Watts-V.
47° 09' 34" North Latitude.
111° 00' 39" West Longitude (NAD27).


One of the CSN radio stations for the Great Falls area is KGFJ, on 88.1 MHz, located at the Tiger Butte Electronic Site. At the time of this visit, the site was shared with two other radio broadcasters, KIKF and KINX. Because the elevation is just over 7,000 feet, the site gives good coverage of Great Falls and surrounding communities, but is subject to harsh weather and severe conditions year-round.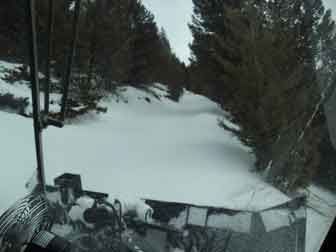 When Loren traveled to the site for the first time in the fall of 2011, he was able to drive his 4Runner all the way. On this occasion, we enlisted the help of James Steil, of Mobile Communications Service, for transportation of personnel and equipment to the site.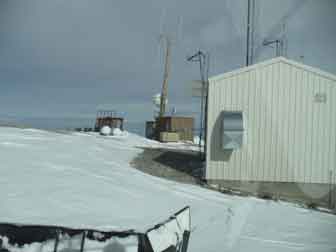 Once you arrive at the site, you realize that you CAN see all the way to Great Falls--and beyond. There is also nothing to buffer the winds.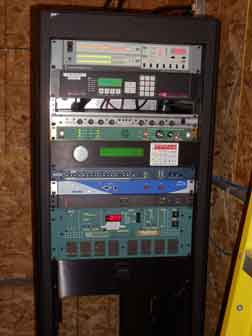 This equipment rack houses all the components of the radio station. From top: Inovonics modulation monitor, Spectra-Cast satellite receiver, Aphex Compellor audio processor, Dayton EAS receiver set, Gorman-Redlich EAS unit, Broadcast Tools audio switcher, Davicom remote control, APC UPS, and Crown transmitter.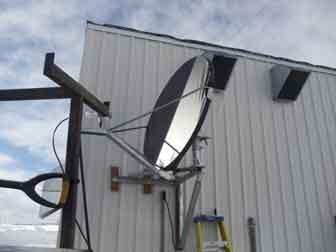 One of our primary goals for this trip was to re-locate the satellite dish to a wall mount on the somewhat sheltered east side of the building.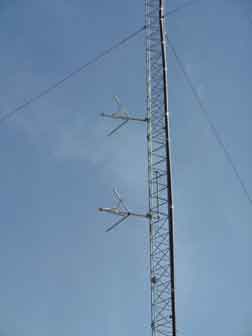 KGFJ broadcasts with this two-bay antenna on the main tower.

---
K217EM + K213DY, Billings.
K268AS, Bozeman (Quinn Peak Electronic Site).
K218DN, Gallatin Gateway (High Flat Electronic Site).
KGFJ, Belt (Tiger Butte Electronic Site).
K242CA, Great Falls (Munson Communications Site).
K215CG, Helena.
K204EV + KJFT, Missoula.
CSN Main Page.
CSN International Web Site.

Montanavision Media Home Page.
This page updated 14-Mar-2016.