Montanavision Media
Contract Client since 2005
CSN International


---
Missoula
CSN Radio operates two stations in the Missoula area. In August, 2007, we were asked to remove an old translator at the Waterworks Hill Electronic Site, just above Missoula.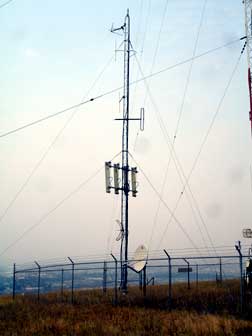 In this "Before" photo, the ANT-90 transmit antenna is located at the 33 foot level.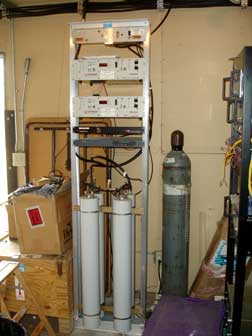 In the rack were two satellite receivers, two transmitters, and a diplexer. The upper transmitter was for K212DE, while the lower transmitter was for K204EV.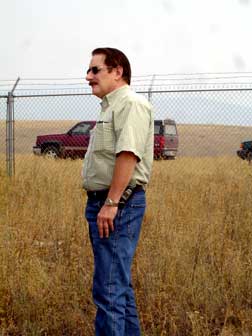 Joe Bowers is the local chief engineer for Cherry Creek Radio in the Missoula market.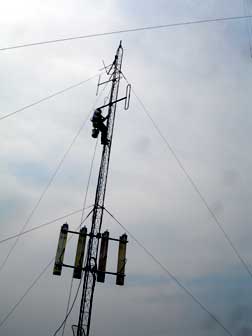 In this "After" photo, Jim has moved the transmit antenna to the 44 foot level, and is securing the coaxial feed line to the tower.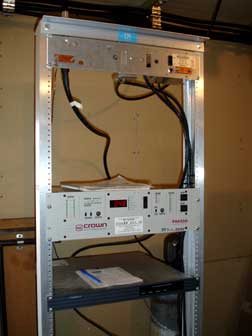 The equipment rack now has one satellite receiver and one transmitter. The Crown FM100 powers K204EV with 48 Watts TPO.

---
In June, 2009, we were asked to help with KJFT at the TV Mountain Electronic Site.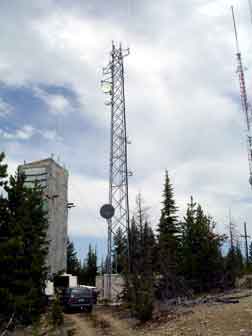 KJFT broadcasts with the two-bay FM antenna half-way up the right side of the tower, July 25, 2009.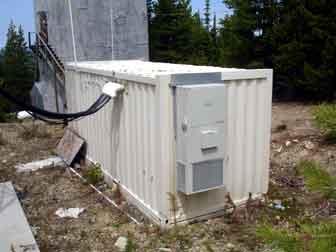 The transmitter building is a converted cargo container, owned by Hickman Sites.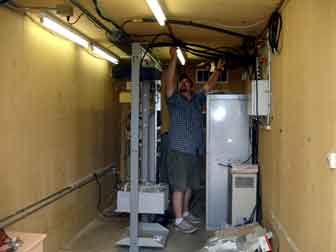 CSN technician Dustin runs cable across the ceiling of the equipment shelter, July 25, 2009.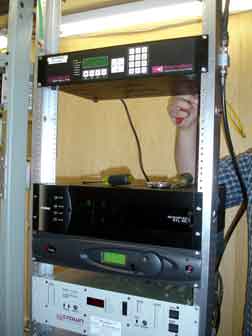 Equipment rack with CSN Crown satellite receiver, Harris Intraplex TCP/IP STL receiver, Omnia 3 audio processor, and Crown FM100 transmitter for KJFT.

---
K217EM + K213DY, Billings.
K268AS, Bozeman (Quinn Peak Electronic Site).
K218DN, Gallatin Gateway (High Flat Electronic Site).
KGFJ, Belt (Tiger Butte Electronic Site).
K242CA, Great Falls (Munson Communications Site).
K215CG, Helena.
K204EV + KJFT, Missoula.
CSN Main Page.
CSN International Web Site.

Montanavision Media Home Page.
This page updated 14-Mar-2016.