Montanavision Media
Contract Client since 2005
CSN International


---
K242CA, Great Falls
Channel/Class=242D, Frequency=96.3 MHz.
FCC Facility ID=8435.
ERP=180 Watts-H, 180 Watts-V.
47° 27' 52" North Latitude.
111° 21' 29" West Longitude (NAD27).


One of the CSN radio stations for the Great Falls area is FM translator K242CA, on 96.3 MHz, located across from the airport at the Munson Communications Site.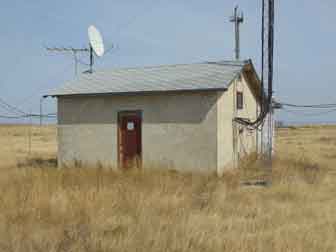 This concrete building probably dates back to World War II, when the site housed a radio beacon for the Army Air Corps.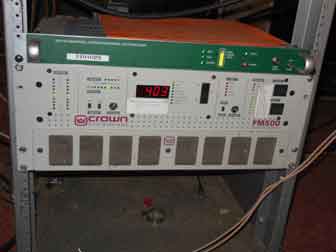 Dayton FM tuner picks up the CSN programming from KGFJ on 88.1 MHz. The Crown FM500 transmitter produces about 400 Watts, September 20, 2012.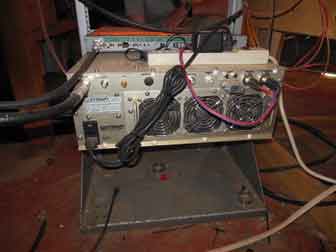 Rear view of the translator equipment, showing the audio, power, and antenna connections.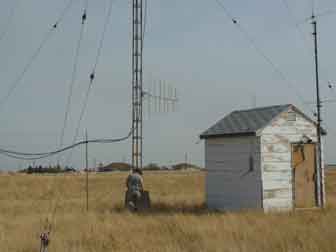 The receiving antenna is a 10-element log-periodic, pointed toward Tiger Butte.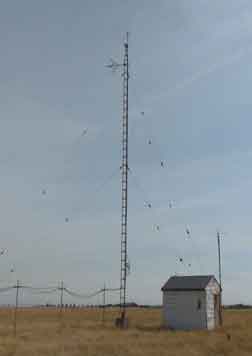 The transmitting antenna is a single bay near the top of this tower. Notice that the guy wires and base are insulated.

---
K217EM + K213DY, Billings.
K268AS, Bozeman (Quinn Peak Electronic Site).
K218DN, Gallatin Gateway (High Flat Electronic Site).
KGFJ, Belt (Tiger Butte Electronic Site).
K242CA, Great Falls (Munson Communications Site).
K215CG, Helena.
K204EV + KJFT, Missoula.
CSN Main Page.
CSN International Web Site.

Montanavision Media Home Page.
This page updated 14-Mar-2016.