Montanavision Media Inc.
Project client in 2001 & 2006.


Citadel Communications Corporation
Citadel Broadcasting Company

---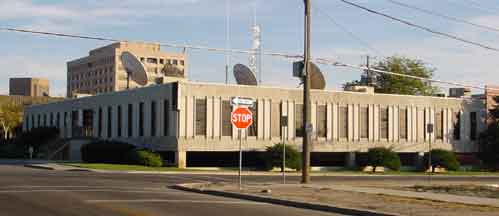 The Citadel Radio Center occupies the entire main floor of this building in downtown Boise, while the lower level provides parking for a staff that is constantly on the go, 27-Sep-2001.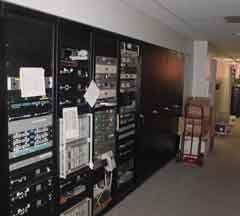 These racks house the central electronic support for ten studios at the Citadel Boise Radio Center, 27-Sep-2001.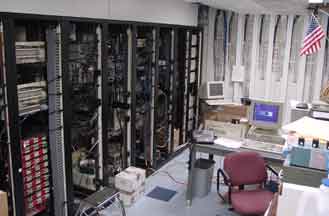 The space behind the racks is used for computer servers, old-fashioned file cabinets for paper documentation, and a tiny office for the IT sub-department, 27-Sep-2001.

---
2001, Deer Point Transmitter Site, Page 1.
2001, Deer Point Transmitter Site, Page 2.
2006, Studio Console Upgrades.
2006, General Engineering Work.
---
Citadel Lansing, 2007.
WJIM-AM, WVFN-AM, WJIM-FM, WMMQ-FM, WFMK-FM, WITL-FM.
Citadel Modesto, 2006.
KATM-FM, KHKK-FM.
Citadel Reno, 2006.
KKOH-AM.
Citadel Little Rock, 2000.
KARN-AM, KAAY-AM, Arkansas Radio Network.
Citadel Flint, 2001.
WTRX-AM.
Citadel Boise, 2001, 2006.
KBOI-AM, KTIK-AM, KIZN-FM, KQFC-FM, KKGL-FM, KZMG-FM.
Citadel Spokane, 1996-present.
KGA-AM, KJRB-AM, KDRK-FM, KEYF-AM+FM, KAEP-FM, KYWL-FM
Citadel Colorado Springs, 1996.
KKFM-FM, KKMG-FM.
Citadel Bozeman, 1993-1996.
KBOZ-AM, KATH-FM, KPKX-FM
Citadel Main Page.

Citadel Web Site.

Montanavision, Inc. Home Page.
This page updated 14-Mar-2016.