Montanavision Media Inc.
Project client in 2007.


Citadel Communications Corporation
Citadel Broadcasting Company

---
In September, 2007, long-time friend and Citadel Lansing Chief Engineer Rick Housley called for help with several projects, including the installation of HD RadioTM at WITL-FM.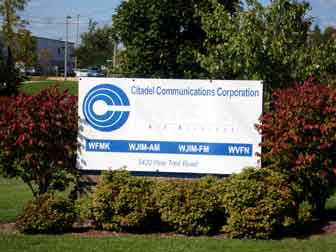 The Citadel Radio Center in Lansing.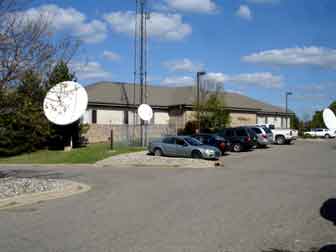 The Citadel Radio Center in Lansing.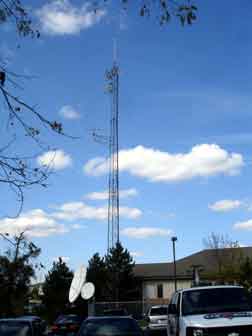 Tower for STL and RPU antennas.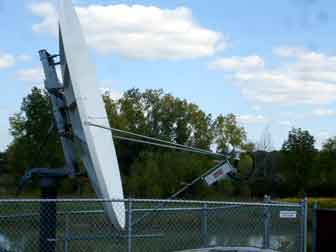 The Citadel Radio Center is also the operations center and uplink site for the Michigan Radio Network.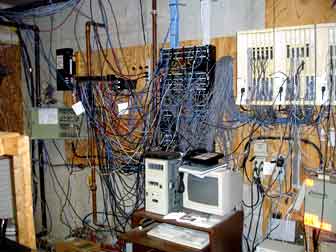 This "before" photo of the telephone and network wiring shows some of the spaghetti that Rick inherited.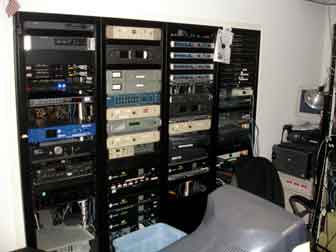 Technical racks and network operations center at Citadel Lansing.

---
Pine Tree Road Site, WITL-FM, WFMK-FM, WJIM-FM, including WITL-FM HD Project, September, 2007.
Gunn Road Transmitter Site, WVFN-AM and WMMQ-FM.
WJIM-AM transmitter site.
White House Studio, home of WITL-FM and WMMQ-FM.

---
Citadel Lansing, 2007.
WJIM-AM, WVFN-AM, WJIM-FM, WMMQ-FM, WFMK-FM, WITL-FM.
Citadel Modesto, 2006.
KATM-FM, KHKK-FM.
Citadel Reno, 2006.
KKOH-AM.
Citadel Flint, 2001.
WTRX-AM.
Citadel Boise, 2001, 2006.
KBOI-AM, KTIK-AM, KIZN-FM, KQFC-FM, KKGL-FM, KZMG-FM.
Citadel Little Rock, 2000.
KARN-AM, KAAY-AM, Arkansas Radio Network.
Citadel Spokane, 1996-2004.
KGA-AM, KJRB-AM, KDRK-FM, KEYF-AM+FM, KZBD-FM, KYWL-FM
Citadel Colorado Springs, 1996.
KKFM-FM, KKMG-FM.
Citadel Bozeman, 1993-1996.
KBOZ-AM, KATH-FM, KPKX-FM
Citadel Main Page.

Citadel Web Site.

Montanavision Media Inc. Home Page.
This page updated 14-Mar-2016.