Montanavision Media Inc.
Contract Client 2007-2010.
Ted Austin, Jr.
KCHQ-FM1, Jackson.
Snow King Site

---
Snow King Mountain is a ski resort and an important electronic site for Jackson, Wyoming.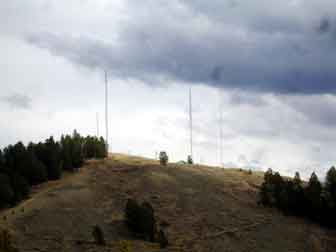 One of the many transmitters at the site is a booster for Q102 FM.
The 40 foot tower is just barely visible in the trees on the right.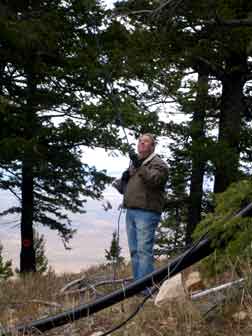 Once again, Ted lends his hands to the project.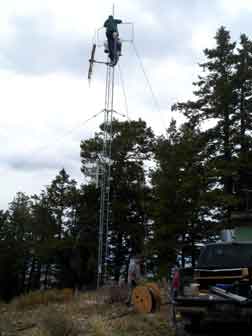 Jim and Loren secure the new STL transmit dish to a mast at the top of the tower.
This link will deliver the Q102 signal to the Teton Village site.
Just below on the left side of the tower is the 102.1 MHz transmit antenna.
About half-way down on the left side of the tower is the STL receive dish for the Q102 signal from Teton Pass.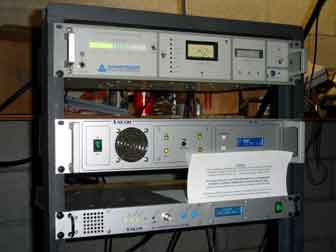 Inside the building, in the equipment rack, is an Armstrong STL receiver, a Bext FM Exciter, and a Bext STL transmitter.

---
K279AU, Idaho Falls.
K275BC, Teton Village.
K287AP, Teton Pass Site.
KCHQ, Snow King Site.
KCHQ, Driggs.
Ted Austin Main Page.
KCHQ, Q102-FM Web Site.
Montanavision Media Home Page.
This page updated 14-Mar-2016.