Montanavision Media Inc.
Contract Client 2007-2010.
Ted Austin, Jr.
K287AP, Jackson.
Teton Pass Site.

---
Teton Pass is an important transportation and communication corridor between Idaho and Wyoming.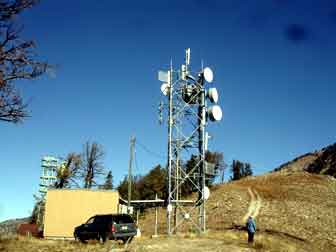 This cellular tower sits at 8600 feet above sea level.
On the left (facing Idaho) side of the tower near the top is the STL receiving dish for the Q102 signal.
Much lower on the right (facing Wyoming) side of the tower is the STL transmitting dish that relays the Q102 signal to Snow King Mountain.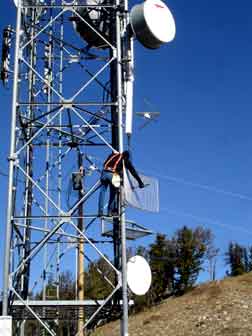 Jim checks the stinger for tightness. Just above this level on the right is the FM transmitting antenna for translator K287AP.

---
K279AU, Idaho Falls.
K275BC, Teton Village.
K287AP, Teton Pass Site.
KCHQ, Snow King Site.
KCHQ, Driggs.
Ted Austin Main Page.
KCHQ, Q102-FM Web Site.
Montanavision Media Home Page.
This page updated 14-Mar-2016.