Montanavision Media Inc.
Client Since 2008.
Chippewa Cree Tribe



KHEW (FM)
Rocky Boy's Reservation, Montana

---
Studio Equipment Installation.
In July, 2011, responsibility for the radio station was transferred to Jay Eagleman of the Tribal Water Resources Department. Two offices in his building were allocated for the radio studios. We ordered the studio equipment and began installing it.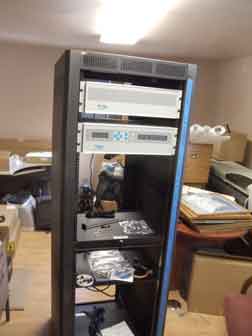 In the on-air studio, this Middle Atlantic equipment rack houses the heart of the technical operations center. We started with the Moseley STL transmitter and LANLink.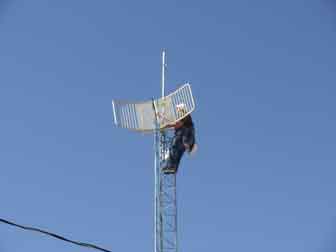 Outside, Loren mounted the Kathrein-Scala STL transmit antenna at the top of an existing 40 foot tower.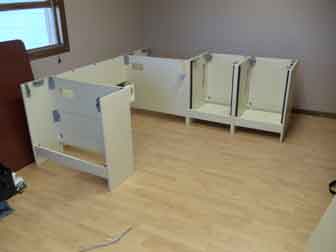 The studio furniture was custom designed by Rod Graham at Graham Studios for this installation. Here, the base cabinets for the on-air studio have been set, September 20, 2011.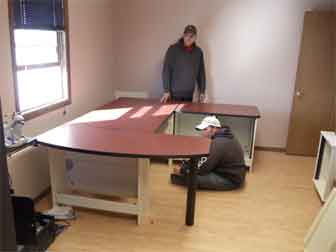 The tops came next. Wyatt DeCora watches Loren drive screws.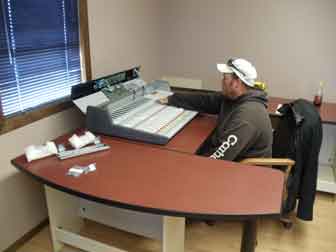 The console is a full-size AudioArts D-75.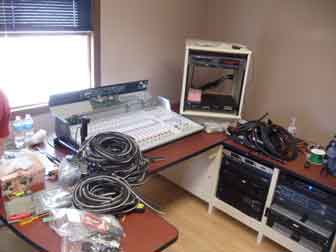 The AudioArts pre-wire kit really speeds studio wiring. By September 22, we had most of the equipment installed in the furniture, and wiring well under-way. This was our first all-digital studio. The microphones are analog, but everything else is wired AES/EBU. You can hear the difference!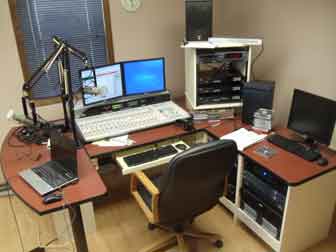 During the week of October 3, 2011, John Kelsey of RCS Software/NexGen came to the Rocky Boy's Reservation to configure the computers and train the station personnel.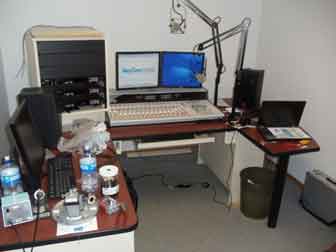 Studio B, the Production Room, was constructed as a mirror-image to the on-air studio, October 19,2011.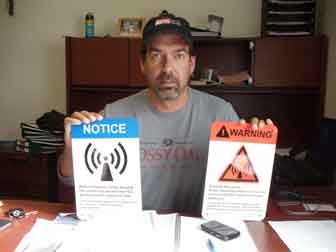 Despite being busy with the studios, the transmitter site required attention to a couple of details. A fence restricting access to areas of potentially-high radiation levels had to be constructed, and signs had to be posted to alert visitors to the hazard. Tribal Water Resources Drinking Water Coordinator and KHEW Program Director Dustin White with the signs from Richard Tell Associates, Inc.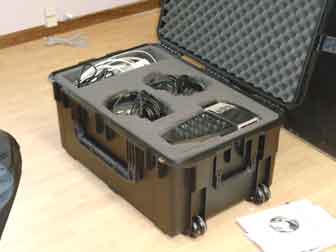 One of the first add-ons to this project was remote gear. They purchased the Comrex Access 2 USB with mixer, sportscaster headsets, and some cables, in a sturdy SKB road case.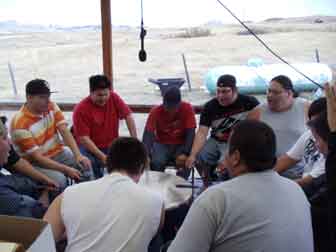 The remote gear was used on the outside deck to broadcast a performance of the Blue Coats, a local group.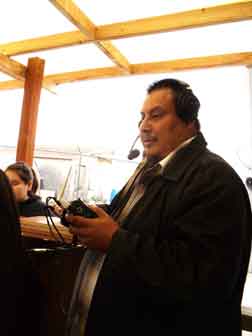 Head Announcer, Big Mike Corcoran, with the Comrex Access in action.


Page 3, Transmitter Installation.
---
KHEW Web Site.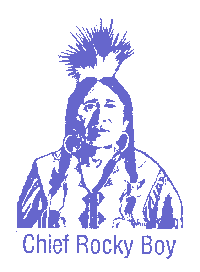 Chippewa Cree Tribe Web Site.

Montanavision Home Page.
This page updated 14-Mar-2016.