Montanavision Media Inc.
Client Since 2003.
Silver Star Communications &
Orion Media, Bozeman
KSCY, Four Corners.

---
KBZM Transmitter
KKQX Transmitter
KSCY Transmitter
Big Sky Studio
---
FCC Facility ID = 164231.
Freq = 106.9 MHz.
ERP = 4.0 kW.

---

The KSCY antenna will be mounted on this 180 foot self-supporting tower at the High Flat Electronic Site, west of Bozeman.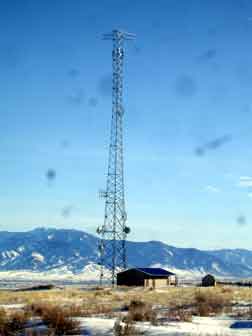 The building and tower were erected by Neil Ramhorst, owner of Mountain Communications & Paging, in partnership with Idaho Tower Company, in February, 2004. Our first couple of days at the site were spent removing empty antenna frames from the 100-foot level to make way for the KSCY antenna.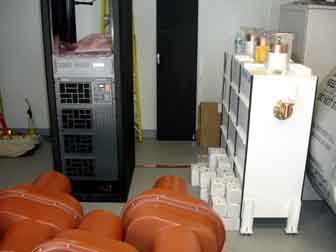 By February 21, we had put the Harris ZX3500 transmitter and Harris Digit exciter in the rack. We also had assembled the Shively 6813 antenna bays. On the right is the Shively 3-section bandpass filter.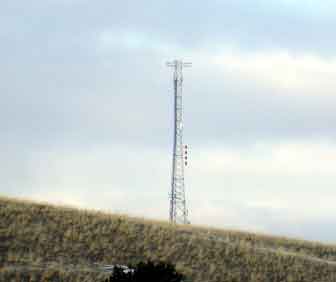 By end of the day on February 23, the four-bay, half-wave-spaced antenna was in place on the tower.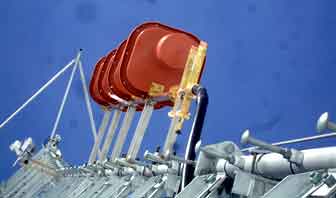 We installed the 1-5/8 inch Andrew HeliaxTM on February 26.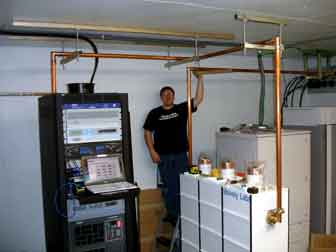 On Thursday afternoon, February 28, 2008, we finished installing the 1-5/8 inch rigid coaxial line inside the transmitter building. We were ready to test the transmitter.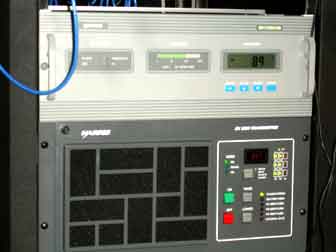 The Harris transmitter producing a full 3,500 Watts into the antenna, with a reflected power of about 2 Watts.



The fully-equipped rack from top: Aztec-Audemat RDS generator, Moseley LanLink, Moseley StarLink, Omnia audio processor, Linksys Ethernet switch, JVC CD player, Harris Digit exciter, and Harris ZX3500 amplifier.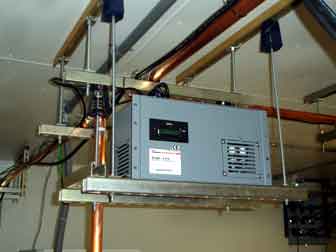 Andrew dehydrator, mounted on spring hangers, pressurizes Andrew HeliaxTM and Shively antenna on the tower.

---
Langohr Studio
Radio Park Studios
KBZM Transmitter
KKQX Transmitter
KSCY Transmitter
Big Sky Studio

K-SKY Web Site.

Montanavision Home Page.
This page updated 14-Mar-2016.