Montanavision Media Inc.
Client since 2007.


Northwest Community College
KNWT (FM)
Cody, Wyoming
KNWT Page 1.
KNWT & KOFG Page 2.
KNWT & KOFG Page 4.
KNWT Studio Page.
KOFG Studio Page.

---
Call Sign=KNWT (FM)
FCC Facility ID=172695
Frequency=89.1 MHz.
ERP=18.5 kw.

---
Latitude=44° 29' 46" North.
Longitude=109° 09' 09" West.

---
Call Sign=KOFG (FM)
FCC Facility ID=121854
Frequency=91.1 MHz.
ERP=8.7 kw.

---
In order for both KOFG and KNWT to use the same tower, a combiner and special wide-bandwidth antenna were required. Because the antenna will be mounted relatively low to the ground, a special bay spacing was required to reduce downward radiation. Frequency allocation issues required that KNWT radiate no energy toward Idaho Falls. Consulting engineer Gray Haertig worked with Shively Labs to design the antenna.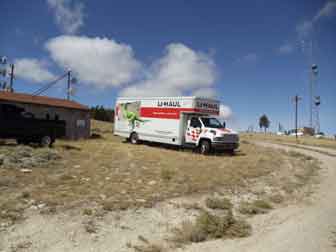 Loren delivers the new Shively antenna and combiner to the Cedar Mountain site, September 1, 2010.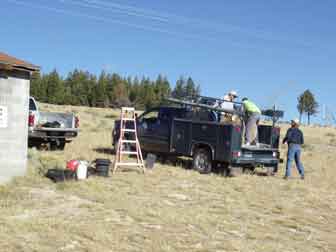 Bar T Electric of Powell arrived the next morning to begin wiring the transmitter building for the new station.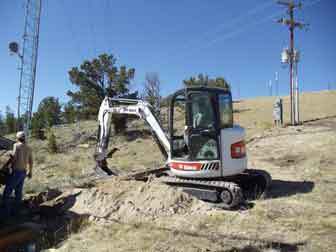 A small excavator was used to dig the trench from the power pole to the building for the new electric service.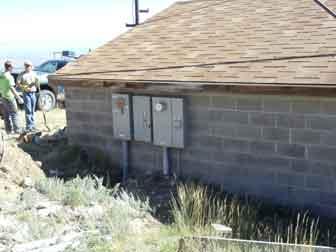 Electric meter panels for KNWT and KOFG side-by-side on the rear of the transmitter building, September 2, 2010.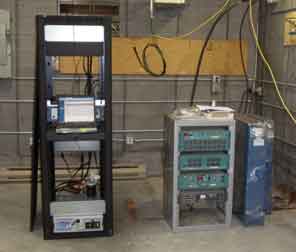 Inside, the KOFG transmitter rack has been moved and turned. The KNWT equipment rack is on the left. The Shively combiner is on the right.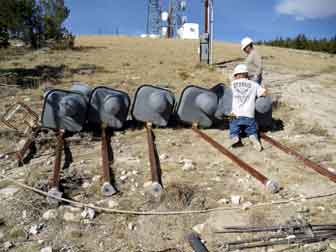 Kevin and Colton assemble the new Shively antenna, September 24, 2010.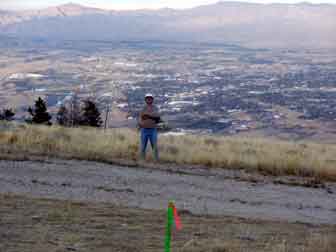 Surveyor's stakes mark the alignment azimuth for the antenna. Colton watches closely to make sure the antenna is properly aligned.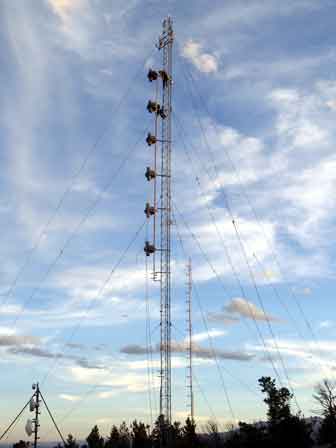 Kenton and Brent align the top bay of the new antenna.


The story continues on Page 4.

Go back to KNWT & KOFG Page 2.

Go back to KNWT & KOFG Page 1.
---

Northwest College Web Site.

Montanavision Media Inc. Home Page.
This page updated 14-Mar-2016.