Montanavision Media Inc.
Client since 1985.
Sheila Callahan & Friends
KHDV, Darby

---

FCC Facility ID 166088.
Channel 300, 107.9 MHz.
ERP=14 kW.
46° 13' 46" North Latitude.
114° 14' 01" West Longitude.
We began our work at the KHDV transmiter site on July 10, 2007.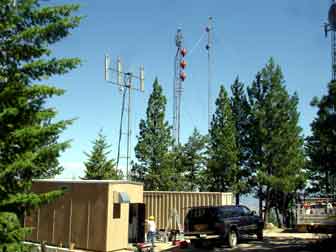 The new KHDV transmitter is located at the Grubstake site, west of Hamilton, on the east slopes of the Bitterroot Moutains, at the 5500 foot level. The site is home to many communications systems.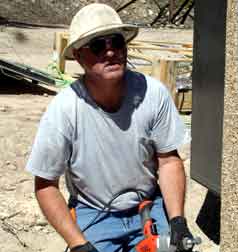 Jerry Murphy makes connections to ground the transmitter building.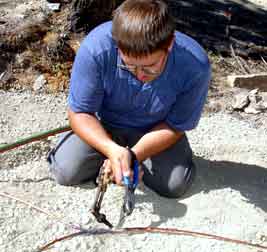 David Hubbard silver solders ground connections.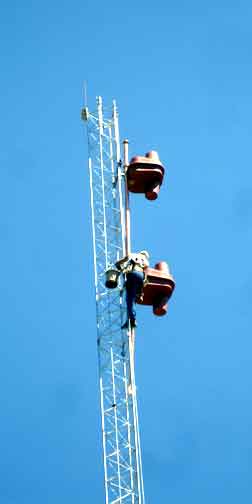 Wayne Nelson connects the second bay of the new Shively FM antenna.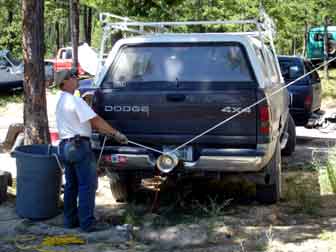 Wayne's helper Mike handles the load line with an electric winch.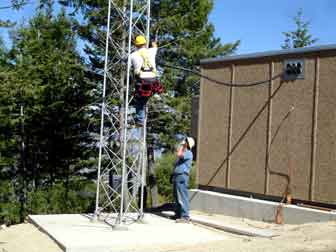 Max Murphy on tower, checking the fit of a bracket to support the ice bridge. Jerry Murphy watches from below.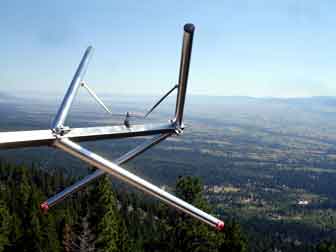 One-bay Bext FM antenna will serve in backup capacity. Missoula is visible in the distance.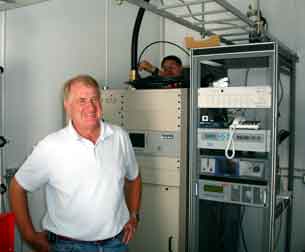 Chief Engineer Vern Argo in front of his new BE-10S FM transmitter. David Hubbard in background, connecting the main coax.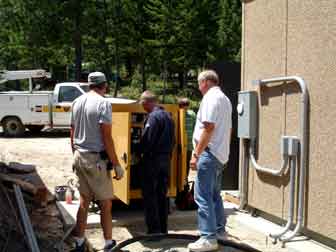 The backup generator runs for the first time! Zane Few of Alpha Propane, generator technician Brandon of Western Equipment, and Chief Engineer Vern Argo watch the successful test.

---
KMSO, Missoula.
KMTZ, Three Forks.
Sheila Callahan & Friends Main Page.
KMSO Web Site.
Mountain Morning Club Web Site.

Montanavision Media Home Page.
This page updated 14-Mar-2016.