Montanavision Media Inc.
Full Service Client Since 1998.
Western Montana College, KDWG-FM, Dillon, MT

---

The students of the Western Montana College of the University of Montana in Dillon approached us in late 1998 to help them start up a new student-run radio station. An application was filed with the FCC in May, 1999, to construct a new non-commercial educational FM station on the campus in Dillon. The engineering portion of the FCC Application for Construction Permit was prepared by Gray Haertig of Portland, OR. The legal portions of the Application, and the actual filing were handled by Wayne Coy, Jr. of Cohn & Marks, of Washington, DC. The FCC issued a Construction Permit in November, 1999.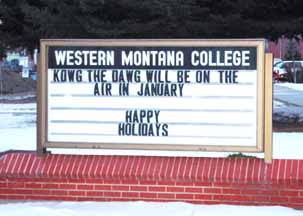 A sign in front of the SUB proclaims the good news.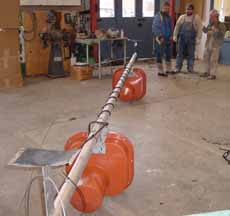 The crew from K+B Construction looks over the FM antenna in the WMC shop.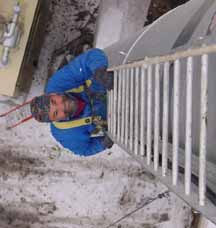 Kim Baker inspects the smokestack prior to construction.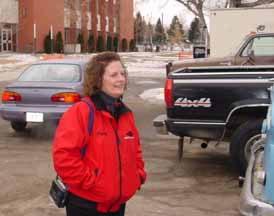 Supervision by Patty Russell, the Director of Physical Plant, insured that this project was done safely and efficiently.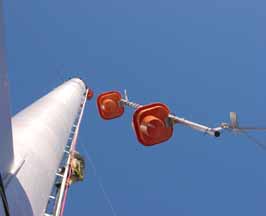 The two-bay Shively antenna going up.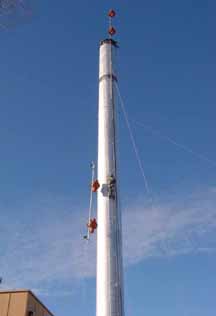 It was a clear, cold winter day when the antenna was mounted on the smokestack.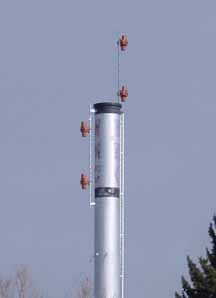 The antenna on the right is for KUFM translator K219DN, which was installed in 1998. The new KDWG antenna is on the left side of the smokestack.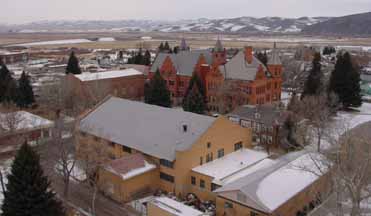 Though the WMC smokestack is not a tall structure by modern standards, it gives KDWG excellent coverage of the Dillon community.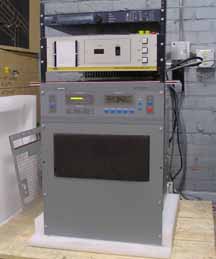 New Harris Quest 1,000 Watt transmitter installed on the second floor of the old heating plant being tested into a dummy load at half power.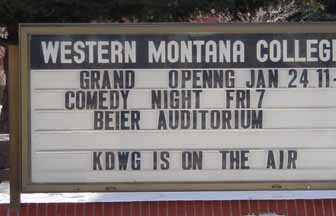 KDWG began test transmissions on January 17, 2000.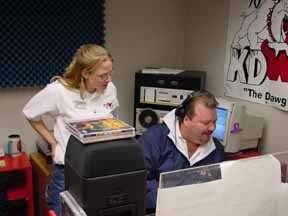 ASWMC President Kim Dolan watches as KDWG Station Manager Carl Gray connects a call from US Senator Conrad Burns for the official sign-on, January 24, 2000.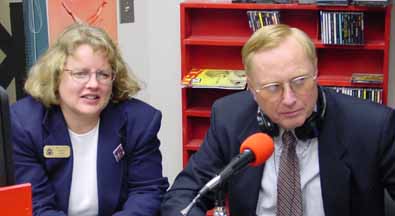 Betsy Allen, aid to US Senator Conrad Burns, and Dr. Steve Hulbert, Chancellor of UMW on hand for the station's grand opening.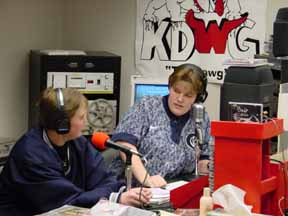 Jacquie Henthorn and Jamie Hillebrand in the studio.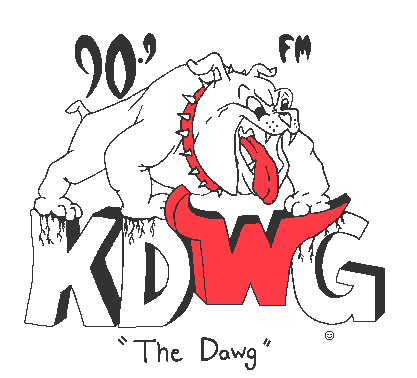 This page updated 14-Mar-2016.