Montanavision Media Inc.
Client Since 2008.
KLSN (FM)
Gallatin Valley Community Radio

---
We have been working with Gallatin Valley Community Radio since its inception, providing technical guidance and encouragement. In September, 2008, the FCC issued a Construction Permit for a new non-commercial educational FM radio station in the Gallatin Valley.

Frequency=90.3 MHz.
ERP=1,000 Watts (V) 1 W (H).
Latitude=45° 37' 49" North.
Longitude=110° 55' 23" West.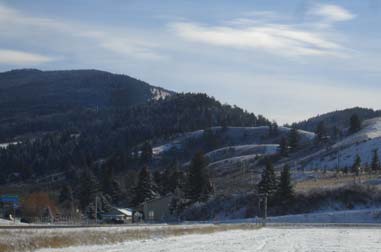 The proposed transmitter site is located just off Interstate 90, on the eastern ridge of Bear Canyon. We have marked the photo to show the approximate size and location of the tower.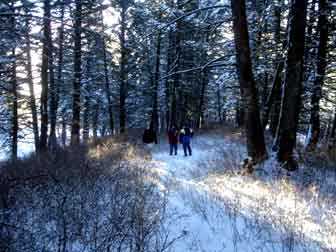 The transmitter and tower will be well-hidden amongst these tall Douglas Fir. Jim discusses the site with Susie Cole and landowner, 09-Dec-2008.

---

Montanavision Home Page.
This page updated 14-Mar-2016.