Ostap Bender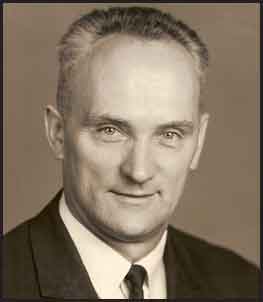 Ostap "Joe" Bender (May 1, 1925 - December 25, 2008) was an innovative and creative noted American civil engineer. He was recognized with industry and government awards for his bold and imaginative approach to bridge engineering design in the advancement of the art of bridge building. He was a state senior bridge engineer for the California Department of Transportation, known as CalTans, from 1956 to 1977. He continued his bridge engineering career designing California highway bridges with CH2M HILL from 1977 to 1986. His public service career covers 24 years with Caltrans and in the US Air Force. Joe Bender's career spanned over 30 years and covered some of the most important years for bridge design engineering experienced in California and nationwide.
Contents
Education
Karlsruhe Institute of Technology, Karlsruhe, Germany, Civil Engineering, 1947–1950
University of Wisconsin–Madison, Bachelor of Science in Civil Engineering, 1954–1956
US Air Force
Ostap "Joe" Bender enlisted in the US Air Force in 1950. He received an honorable discharge in 1954 and subsequently enrolled in a university to continue a civil engineering degree.
State of California
Department of Transportation, 1956–1977
Ostap "Joe" Bender was with the California Department of Highways (Caltrans) and worked on a range of interesting bridges in a design capacity. These included "...steel plate girders highway and railroad, steel box girders, two orthotropic steel deck bridges, and an innovative suspension bridge," per Alfred R. Mangus, P.E., also with Caltrans. "The North 680 to West Connector Bridge of Dublin, California in 1967, which was built as an experimental bridge to check the accuracy of Caltrans design software, 'Orthotropic Plate Design' in 1967 and actual capacities, various trapezoidal ribs, and deck plate thickness. Mr. Bender's concrete bridges include concrete box girder, cast in place concrete box for military tanks and the cast-in-place concrete Pine Valley Bridge."
CH2M Hill
CH2M Hill, 1977 - 1986
Ostap "Joe" Bender held a position as manager for the structural department for the Sacramento Region with CH2M HILL. He is credited with additional bridges and other structures in a design capacity as well as oversight.
Professional Engineer Registrations
California (Civil and Structural) Licensed Engineer
Florida
Washington (Civil and Structural)
Nevada
Affiliations
Tau Beta Pi, for excellence in engineering at the University of Wisconsin at Madison
American Society of Civil Engineers (ASCE)
Precast-Prestressed Concrete Institute (PCI)
American Concrete Institute (ACI)
Structural Engineers Association of Central California (SEAOCC)
Professional Committees
Member of Joint ASCE-ACI Committee 343, Concrete Bridges
Member of SEAOCC Committee on registration
Member of National Cooperative Highway Research Program
Project Panel C-12 Replacement and Rehabilitation of Bridges on Secondary and Local Roads
Awards
The list of awards accorded the bridges designed by Ostap "Joe" Bender demonstrates the continual striving for economy of construction through application of innovative ideas and concepts while being sensitive toward aesthetic values.
Lincoln Arc Welding Foundation, 1964; 680/580 Separation at Dublin - first use of orthotropic steel deck plate in USA
American Institute of Steel Construction (AISC), 1965; Willow Creek Bridge: "simple and functional" structure
Lincoln Arc Welding Foundation, 1966; Klamath River Bridge at Orleans: "contribution toward advancement in use of arc welding"
U.S. Steel International Bridge Design Competition, 1966; Prize winning entry of an overcrossing
AISC, 1967; Klamath River Bridge at Orleans: "beautiful structure in long span category"
AISC, 1972; Sacramento River Bridge at Bryte: "nicely proportioned superstructure and sculptured piers"
Lincoln Arc Welding Foundation, 1972; Sacramento River Bridge at Bryte - an all welded trapezoidal steel box girder
Professional Engineers in California Government (PECG), 1974; PECG - Man of the Year
PCI, 1975; Pine Valley Creek Bridge "for excellence in architectural and engineering design using prestressed concrete"
Lincoln Arc Welding Foundation, 1981; Sacramento River Bridge at Colusa - a lift-out steel box section within a concrete structure
Associations and Honors
Publications
"Experimental Orthotropic Plate Bridge Built by California," Civil Engineering, November 1964
"Eagle Point Viaduct," California Highways and Public Works, September–October 1964
"Design of Pine Valley Creek Bridge," Bridge Notes, September 1970
"Basic Data on Orthotropic Decks," Modern Welded Structures, Volume II, 1965, by Lincoln Arc Welding Foundation
"First All-Welded Box Girder Suspension Bridge," Modern Welded Structures, Volume III, 1970, by Lincoln Arc Welding Foundation
As a member of the computer committee for the Office of Structures, Caltrans, Ostap "Joe" Bender wrote the program for warping stresses on open steel sections, collaborated on programs for orthotropic decks and for creep deflections in cantilevers.
Bender prepared the chapter on truss design for the Manual of Bridge Design Practice, published by the State of California, Highway Transportation Agency, Department of Public Works, Division of Highway, Bridge Department, 1963.
Bridges
Ostap "Joe" Bender's experience in the design of bridges encompasses the design of over 200 structures in a variety of materials:
Timber, or wood construction
Reinforced concrete
Prestressed concrete
Structural Steel Bridge
The structure type displayed great diversity:
Slabs
Girder bridge
Truss bridge
Arches
Suspension bridge
The structural configuration displayed multiplicity:
Simple spans, such as a simple suspension bridge
Continuous spans, such as a continuous truss bridge
Rigid frames (see rigid frame bridge definition)
The following list includes examples of Ostap "Joe" Bender's design experience. Of added note are the construction year and cost. This list is a representative sample of the breadth of his design contributions to the bridges and highways benefiting the people of California.
Lacy Street Underpass in Los Angeles is a two-track AT&SF railroad structure, designed to utilize riveted-through girders at $600,000 in 1958.
Eagle Point Viaduct in Humboldt County on Highway 101 along the Eel River which was designed as an ingenious solution to a difficult sidehill construction problem through the use of welded I girders at $600,000 in 1959.
Route 680/580 Separation by Dublin in Alameda County was designed to utilize I girders and an orthotropic steel deck plate as an experimental structure at $600,000 in 1962.
Willow Creek Bridge in Humboldt County was designed to utilize I girders and simple spans in a very economical structure for $200,000 in 1963.
Cockleburr Overhead Crossing on Route 5 at Camp Pendleton was designed representing a unique reinforced concrete box girder structure specifically designed for use by combat tanks used in ocean short exercises for $400,000 in 1963.
Santa Margarita River Bridge on Route 5 by Oceanside was designed to use conventionally reinforced, haunched concrete box girders in a graceful three-span river crossing for $900,000 in 1964.
Old Town Viaduct in San Diego was designed to use a conventionally reinforced, continuous concrete box girder as a solution to a difficult layout problem and construction sequence problems for $3,000,000 in 1964.
Klamath River Bridge at Orleans in Humboldt County on Route 96 was designed utilizing multi-cell steel box girder in a pleasing three-span miniature suspension bridge for $1,400,000 in 1965.
Sweetwater River Bridge on Route 8 east of San Diego utilizes steel I girders for continuous and economical three-span structure for $1,200,000 in 1967.
Del Paso Park Separation and Overhead Crossing in Sacramento represents twin structures designed utilizing concrete box girders with a combination of post-tensioning and conventional reinforcement in solving a problem of highly skewed layout at $1,700,000 in 1967.
Sacramento River Bridge at Bryte on Interstate 80 represents a design with a first use of a two-cell trapezoidal steel box girder in a major structure for $11,000,000 in 1969.
Pine Valley Creek Bridge on Route 8 east of San Diego utilizes a segmental casting design. This was the first time this design was proposed in the United States. The design included a free cantilever construction method of a large post-tensioned concrete box girder structure for $10,000,000 in 1974.
Sacramento River Bridge at Colusa has a design that represents the use of a combination of post-tensioned concrete box girder and a welded steel box with an orthotopic deck in order to provide a removable section while preserving unity of appearance at $2,200,000 in 1979.
East Grand Avenue Overhead Crossing in San Francisco was designed with curved, welded, steel box girders with a post-tensioned concrete slab used over the railroad tracks. This design represents another example of an economical solution to a problem of constructing a bridge within a highly congested area, without imposing on rail or street traffic at $12,500,000 in 1984.
Ostap "Joe" Bender served as a project engineer on many large projects involving coordination, establishment of design standards, and leadership of the design team. The following listing gives examples of several multi-structure projects which exemplify Mr. Bender's leadership.
Highway 49 and Highway 20 through Grass Valley and Nevada City in Nevada County consisted of nine structures at $2,400,000 in 1963.
Interchange at Interstate 5 and Interstate 210 in San Diego consisted of nine structure at $6,000,000 in 1968.
Route 8 between San Diego and Yuma consisted of several projects at $7,000,000 from 1965 through 1968.
Interchange at Interstate 5 and Interstate 14 in Los Angeles consisted of 12 structures at $7,000,000 in 1969.
Interchange at Interstate 5 and Interstate 54 in San Diego consisted of 10 structures at $10,000,000 in 1975.
Ostap "Joe" Bender's experience in construction of bridges includes 1½ years on projects on Interstate 80 near Cordelia and Vallejo serving as an assistant resident engineer, being involved in construction inspection, surveying, contract pay estimates, and change order processing.
Mr. Bender spent over three years in bridge maintenance being involved in annual inspections of bridges, calculation of load ratings of existing bridges, preparation of plans for rehabilitation and upgrading of older structures and processing of encroachment and overload permit applications. This type of experience is illustrated in the following projects.
Dry Gulch Creek Bridge on Route 263 in Siskiyou County was a rehabilitation project of an arch bridge with highly corroded reinforcement and spalled concrete at $300,000 in 1976.
Sunset Canal Bridge on Highway 99 near Chico represents a project designed to upgrade the live load capacity of an existing T-beam bridge by the use of external prestressing at $60,000 in 1976.
Hazel Avenue Overcrossing on Highway 50 near Sacramento was a repair project involving replacement of two prestressed precast girders in an existing bridge damaged by overheight load at $90,000 in 1977.
Hydropower
During his career with CH2M HILL, Ostap "Joe" Bender was responsible for the structural design on hydropower projects. The following include examples of Mr. Bender's extensive design experience.
Prefabricated steel Bear Valley Powerhouse for Escondido Mutual Water Company
Reinforced concrete Point Loma Powerhouse for the City of San Diego
Masonry and concrete Miramar and Alvarado Powerhouses for the City of San Diego
Concrete masonry building as part of the Cottonwood Canyon Ranch hydropower facility for the Desert Power Company
Reinforced concrete New Hogan Dam Powerhouse for the Modesto Irrigation District
Each powerhouse project involved structural design of penstock, determination of an anchoring system for stability requirements and structural design of walls, footings, and roofs. The most complicated project was the New Hogan powerhouse project. The design and construction involved an existing dam owned by US Army Corps of Engineers. All concepts and details had to be reviewed and approved by the Corps before any construction could start. The roof of the powerhouse was designed for loads from an operating crane used for equipment installation.
Selected References
Award Winning Bridges in California Owned and Designed by Caltrans by Carl Huang, P.E., Craig Copelan, P.E., Ric Maggenti, P.E., and Alfred R. Mangus, P.E.
"Bridges: The Spans of North America" by David Plowden, references the Klamath River Bridge at Orleans designed by Mr. Bender
This page updated 20-June-2021.